Knowing what to do with its ashes can be difficult when a pet dies. Many people bury their pet's ashes in the backyard, but this isn't always possible or desirable. Scattering a pet's ashes is a popular alternative, but it can be hard to know where to start.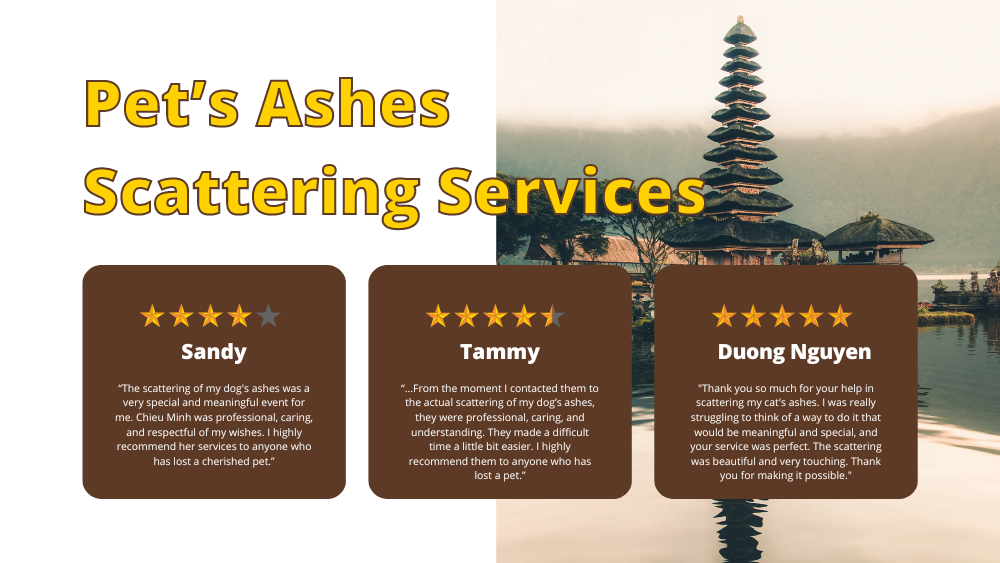 Chieu Minh Pet's Ashes Scattering Services is a new business dedicated to helping pet owners scatter their beloved pet's ashes. We offer various services, including choosing the perfect location, helping to plan the scattering ceremony, and even providing keepsakes for those who want to keep a piece of their pet close by.
We understand how difficult it can be to say goodbye to a pet, and we want to help make the process as easy and painless as possible. If you're interested in learning more about our services, don't hesitate to get in touch with us today.
The Scattering Process
We know that saying goodbye to a beloved pet is never easy. That's why we offer a variety of scattering options to help you honor your furry friend in a way that feels right for you. Here's a look at the scattering process and what to expect.
When you contact us to arrange scattering services, we will work with you to determine the best location and method for your pet's ashes. We can scatter ashes in a natural setting like a park or beach or in a more formal setting like a memorial garden. We can also scatter ashes from a distance, using a special device that releases them into the wind.
Once we have determined the best location and method, we will schedule a time for the scattering. Depending on the location, we may need to obtain a permit in advance.
We keep you updated with photos and videos in the process of scattering your pet's ashes at your request. You can see the entire process from start to finish, and you can be sure that your pet's ashes were handled with the utmost care and respect. We want you to have peace of mind knowing that your pet is in good hands.
FAQs About Pet's Ashes Scattering
How Do I Know You Will Treat My Pet's Ashes with Respect?
It is understandable to be concerned about what will happen to your pet's ashes after passing away. You may wonder how we will handle them and whether or not we will treat them with the respect they deserve.
Here at Chieu Minh Pet's Ashes Scattering Services, we take great care in handling all of our pet clients' ashes. We understand how important it is for you to handle your pet's remains with care and respect. We assure you that we will treat your pet's ashes with the utmost respect and dignity.
I Don't Live Near You, Can You Still Help Me?
We offer pet's ashes scattering services in Ho Chi Minh City and nearby provinces. If you're far away from HCMC, you can send your pet's ashes through the post office or shipping services to us. The ashes scattering ceremony will be performed according to your wishes.
I Want to Scatter My Pet's Ashes in A Special Place. Can You Help Me with That?
If you're looking for a special way to scatter your pet's ashes, we can help. We offer various services to help you find the perfect place to scatter your pet's ashes. We can help you find a scenic spot, a place with special meaning to you, or a place your pet loves. We'll work with you to find the perfect spot and ensure that everything is taken care of. We can even provide a special scattering service if you'd like. Contact us today to learn more about our pet scattering services.
Is It Okay to Keep a Pet's Ashes at Home?
Many people keep their pet's ashes at home after being cremated. While this may seem like a good idea initially, there are some drawbacks to doing so. For one, ashes can be difficult to deal with. They are often dusty and can get everywhere. Also, ashes can remind you of your pet's death and can be upsetting. If you choose to keep your pet's ashes at home, keep them in a safe place where they will not be disturbed.
What Do People Do with Their Pet's Ashes?
When a pet passes away, its ashes can be scattered in a number of ways. Some people choose to bury their pet's ashes in the ground, while others may opt to scatter them in a special place that is meaningful to their pet. There are also a number of pet ashes scattering services that will help to scatter your pet's ashes in a respectful and dignified manner.