If you are in Binh Duong Province, Vietnam, and you need pet cremation pick-up services, look no further than us. We are a team of professionals who are dedicated to providing you with the best possible service.
We will pick up your pet from your home or from the vet, and we will transport them to our facility for cremation. We will then return your pet's ashes to you, so that you can scatter them or keep them in a special place.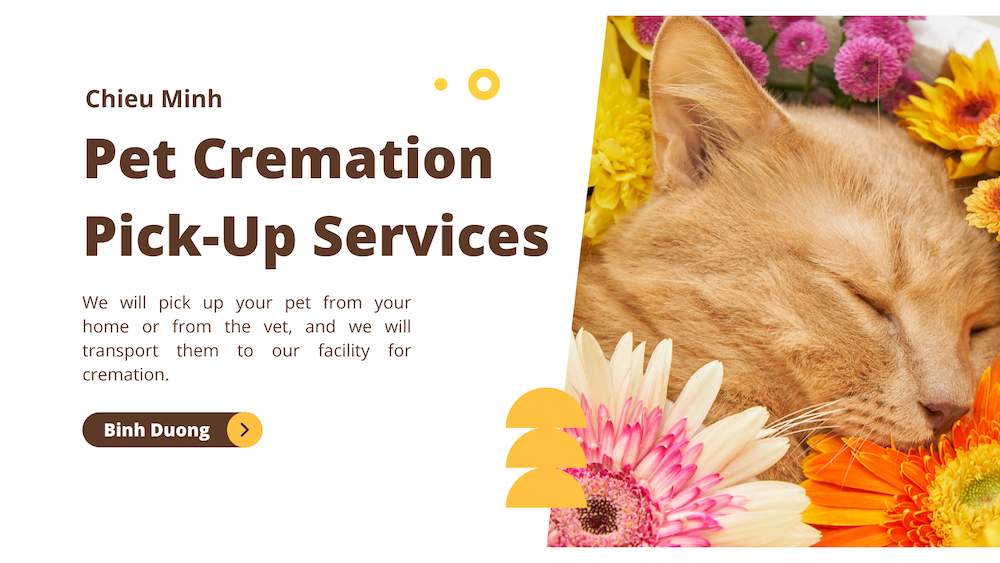 Services We Offer
We offer a variety of services to help you give your beloved pet a dignified send-off. Whether you are looking for a traditional cremation or a more unique service, we can help you find the right option for your pet.
Individual Pet Cremation
Communal Pet Cremation
Our Process
Our process for pet cremation in Binh Duong Province, Vietnam is simple and straightforward. We come to your home or business to pick up your pet. We then take your pet to our facility in Ho Chi Minh City, where we cremate them. Once the cremation is complete, we return your pet's remains to you (for individual pet cremation).
We keep you updated with photos and videos of the pet cremation process as it happens. This way, you can rest assured knowing that your beloved pet is being taken care of with the utmost respect and care. We want you to have peace of mind during this difficult time.
Pricing
The pricing of pet cremation services is typically based on the weight of the pet. The cost starts at $30 for the first 5kg and increases by $2.50 for each 1 kg of the pet's weight.
For example: a pet that weighs 6 kilograms would cost $37.50 for cremation services.
Contact Us
We are fully licensed and bonded in Binh Duong Province, and our cremation equipment is functioning correctly. We pride ourselves on providing the best possible pet cremation services. Please contact us to learn more about the benefits of our services. We look forward to having the opportunity to provide you with compassionate and professional cremation services.
FAQs About Pet Cremation Pick-Up.
What Is Pet Cremation Pick-Up?
Pet cremation pick-up is a service offered by some pet cremation providers in which they will come to your home or place of business to pick up your pet's remains. This can be a convenient option for those who are unable to transport their pet's body to the crematorium themselves. It is important to note that not all pet cremation providers offer this service, so be sure to ask before you make any arrangements.
Why Use Our Pet Cremation Pick-Up Services?
There are many reasons to use our pet cremation pick-up services in Binh Duong Province, Vietnam. Firstly, it is a convenient and hassle-free way to dispose of your pet's remains. Secondly, our service is much more affordable than traditional pet cremation services. Thirdly, our pick-up service is available 24 hours a day, 7 days a week, so you can be sure that your pet will be cremated as soon as possible. Finally, we offer a range of other pet cremation services, such as pet memorials and pet urns, which can help you keep your pet's memory alive.
How to Contact Us for Pet Cremation Pick-Up Services.
If you need to schedule a pet cremation pick-up, please contact us by phone or text at our hotline. You may also book an appointment online. Please provide your name, contact information, pet's type, name, weight, and the time you would like to pick up your pet. 
What to Do with Your Pet's Ashes.
There are many ways to deal with a pet's ashes after cremation. Some people choose to bury them in tree plants, while others choose to scatter them on rivers or beaches. Still, others choose to keep them in an urn. Whichever option you choose, it is important to remember your pet and the bond you shared.