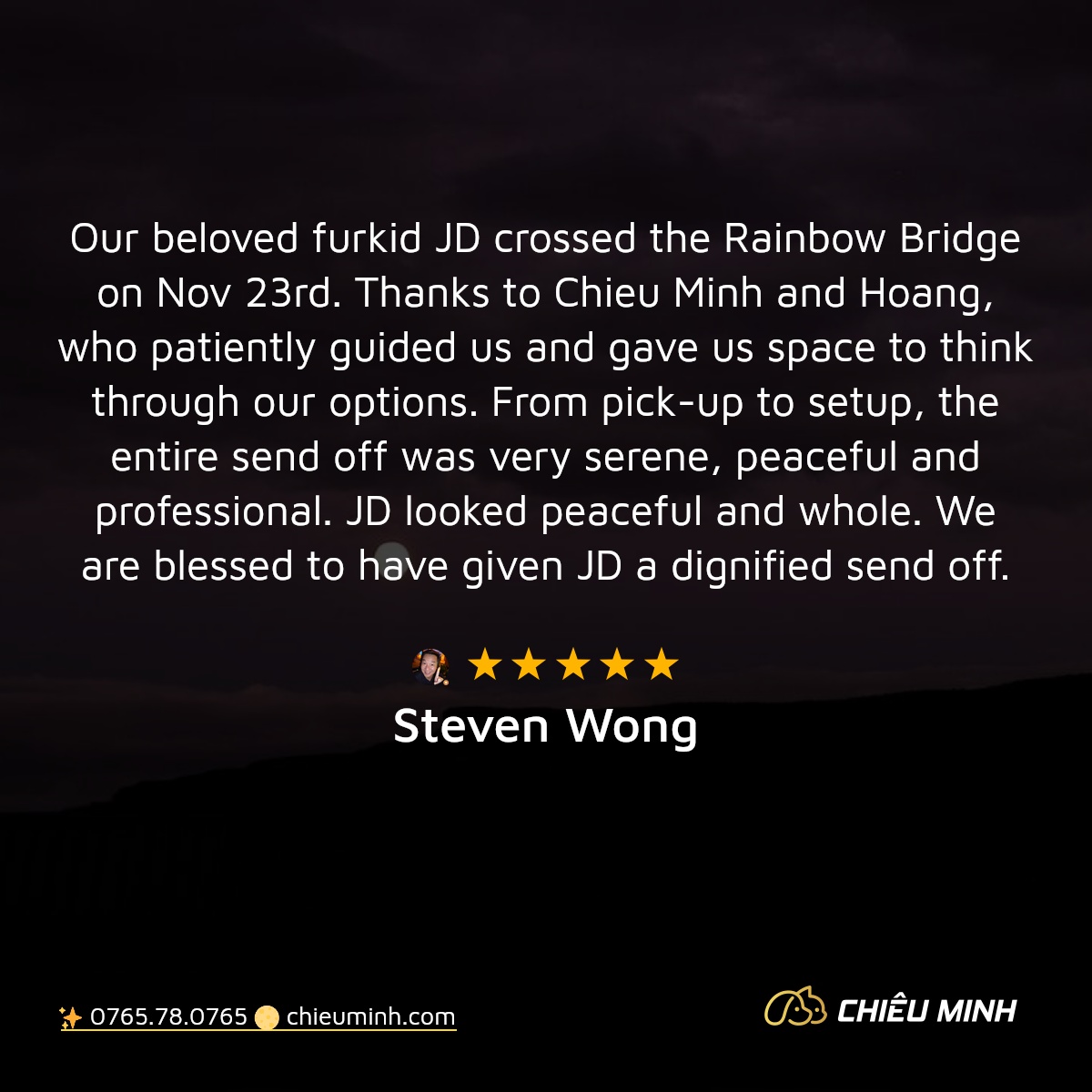 On the 23rd of Nov 2021,our beloved furkid JD fought a good fight and we parted ways with him as he crossed the Rainbow Bridge.
It was very emotional and we are glad Chieu Minh assisted us with the entire send off.

Hoang picked up my call at abt 3am in the morning. From there, his gentle spirit guided us patiently with our options for sending JD off.
He was very patient and he gave us a lot of space to think through our options. Not pushy or tried upselling us.

From the pick-up of JD's body to guiding us to Sungei Tengah, it was very professionally done over a WA grp chat.

The entire setup of the send off was very serene, peaceful and calming. We have time to say our goodbyes and final farewell with JD.

JD looked very clean, peaceful and whole, eyes very nicely closed, as though he was in deep sleep before he was ill. It was very comforting to see him in that state. We felt at peace though we are going to miss him very badly, even now.

We are blessed to be referred to Chieu Minh and having Hoang to take care of the entire proceeding.
Thanks to Chieu Minh and Hoang, we could give JD a very dignified send off.
Many thanks to the team of Chieu Minh.
⛅ Check us out on Google Maps: https://goo.gl/maps/wczrv4sv84ybV9jJA
#chieuminh #petcremation #testimonials #dogcremation #catcremation #animalcremation
— 🪲🐔🐨 —
Chieu Minh Pet Cremation
✨ Phone: 0765.78.0765
🌕 English: https://chieuminh.com/en
🌑 Vietnamese: https://chieuminh.com