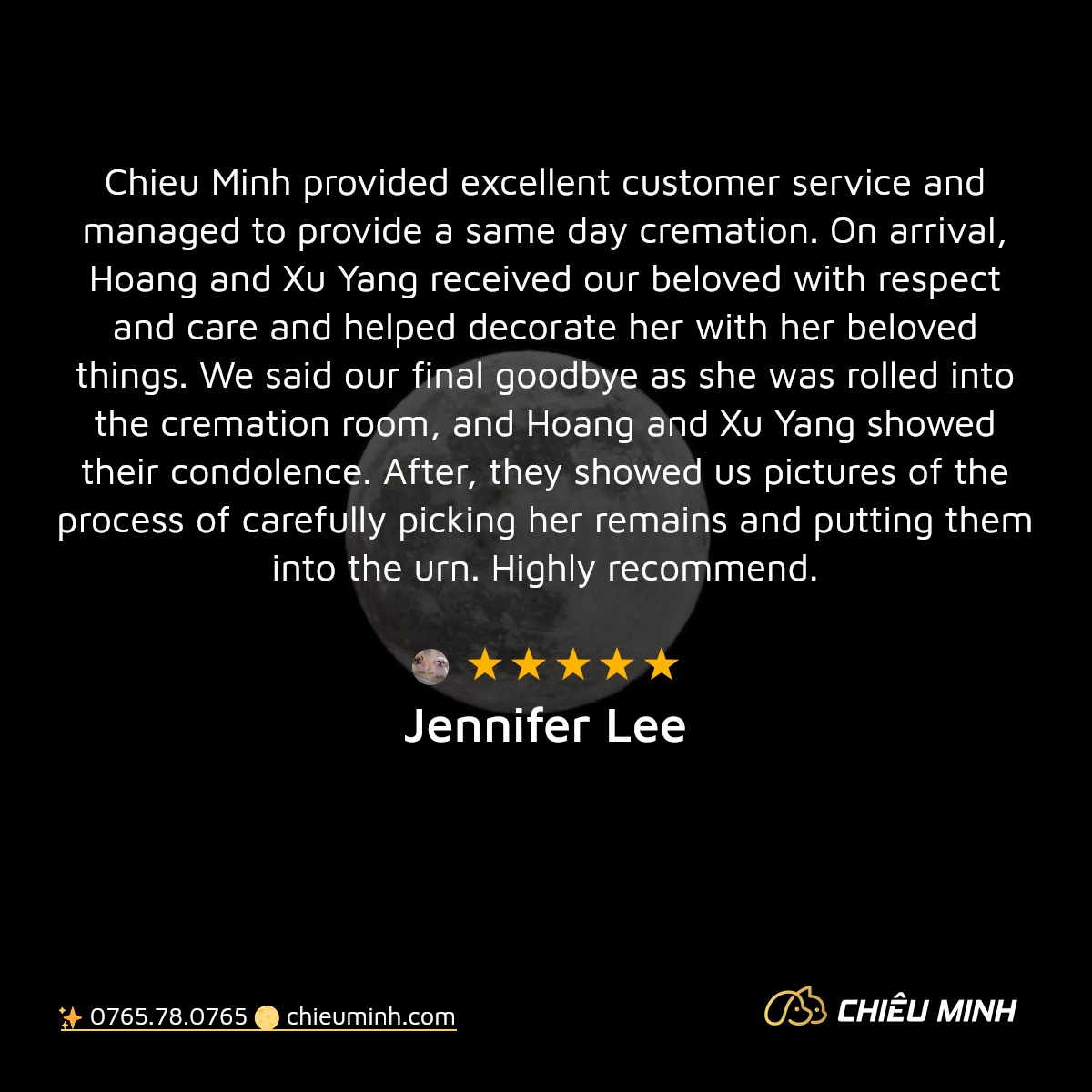 Our beloved candy of 16 years of age passed on peacefully at home on 3rd April '22. I googled and chanced upon Chieu Minh.

The call was answered by Hoang. He provided very good customer service during the call, checking in on what we need and how they can support us. He took prompt actions and managed to provide us on a last minute slot and sent us all the informations about the available packages. We managed to settle everything for a same day cremation.

When we reached, both Hoang and xu yang were there to receive candy with a trolley laid with a bed cushion and also sheltered her with an umbrella from the rain.
This service really touched us as we see how they respected and handled our beloved girl.

They brought candy to the touch up room and followed our instructions to place all her beloved stuff around her which we brought along.

When it was time for us to see candy. We were so touched and at peace to see candy peacefully and beautifully laid in a grand and beautiful room, decorated with flowers, music and nice fragrance. They also provided us with cards to write our personal message for candy which we placed beside her.

We said our final goodbye to candy as she was slowly being rolled into the cremation room, both Hoang n xu yang gave us their deepest condolence by bowing to our family.
Their excellent service did not end here, he followed up with me after that candy's cremation by showing me pictures of the process of how they carefully picked candy's remains and put into the urn.

The service from Chieu Minh really impressed me and made this tough journey easier for me and my family. I highly highly recommend them.
🐏 Check us out on Google Maps: https://goo.gl/maps/wczrv4sv84ybV9jJA
#chieuminh #petcremation #testimonials #dogcremation #catcremation #animalcremation
— 🫧🌿🌛 —
Chieu Minh Pet Cremation
✨ Phone: 0765.78.0765
🌕 English: https://chieuminh.com/en
🌑 Vietnamese: https://chieuminh.com